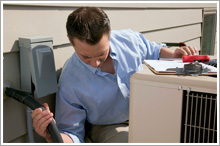 Refrigerant Supply Inc. provides a turn-key solution for removal of your HVAC system. Our program is designed toward systems rated at 300 tons or greater.
The cost of removal is usually equal or less than the value we recoup from the refrigerant, copper and aluminum. Therefore, your system can "go away" at no cost to you, or possibly with a cash payment to you.
Our EPA certified technicians will provide all documentation and certificates of recycling to keep your company in EPA compliance. The following information is required to make an evaluation.