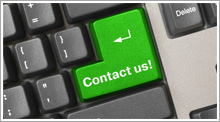 We certainly appreciate your interest in Refrigerant Supply, Inc. We are ready to assist you to fill all of your refrigerant needs. Please fill out the form below, then select the "submit" button. Your information will be directed to the appropriate consultant, who will reply to your request in a timely manner.
You may also call us at (877) 234-5667, fax us at (937) 439-0046, or if you do not wish to fill out the form below, you can e-mail us directly at sales@refrigerantsupply.com
Comments or questions are welcome.

View Larger Map (866) 570-7967